Schedule Service for Your Vehicle at Hunter Dodge Chrysler Jeep Ram FIAT
Welcome to Hunter Dodge Chrysler Jeep Ram FIAT, your go-to destination for top-notch service and maintenance for your Chrysler, Dodge, Jeep, or Ram vehicle. We take immense pride in providing exceptional customer service and expert care to keep your vehicle running smoothly. Our highly skilled technicians, state-of-the-art facilities, and commitment to using genuine OEM parts ensure your vehicle receives the care it deserves. Whether you need routine maintenance, repairs, or commercial services, we've got you covered.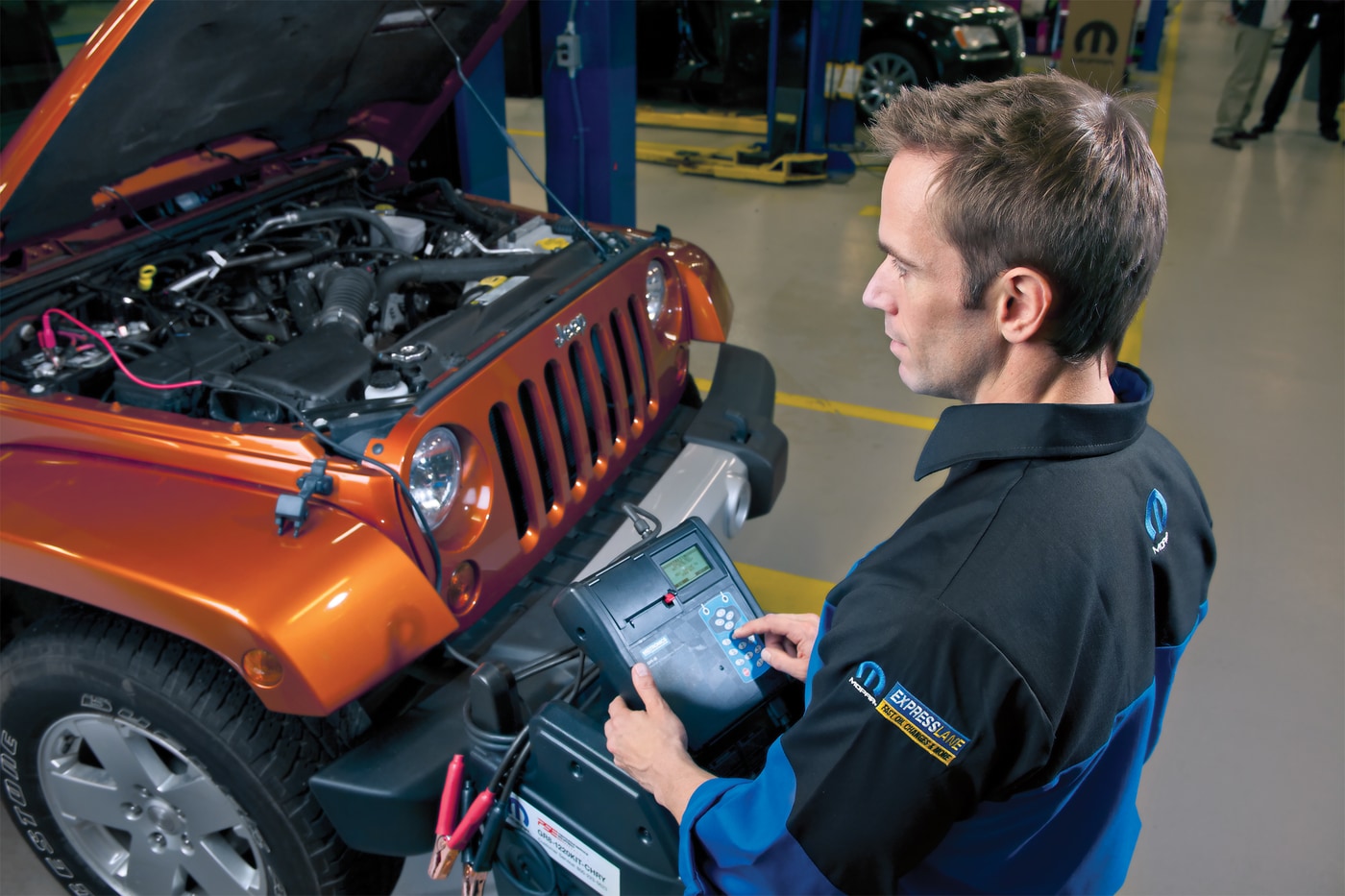 General Overview of Our Service Center
We offer a comprehensive range of services tailored to Chrysler, Dodge, Jeep, and Ram vehicles and their unique needs. Our service department has advanced diagnostic tools and equipment, enabling our certified technicians to diagnose and address issues efficiently. From oil changes to transmission repairs, we handle your maintenance with the utmost precision and attention to detail.
Common Routine Maintenance
Regular maintenance is the key to extending the lifespan of your vehicle. Our expert technicians are here to assist you with essential routine maintenance tasks, such as oil changes, brake inspections, tire rotations, alignments, and fluid checks. By following manufacturer guidelines and utilizing high-quality products, we provide meticulous service that meets or exceeds industry standards. Keeping up with routine maintenance enhances your vehicle's performance and helps prevent costly repairs down the road.
Repairs
In the unfortunate event of a breakdown or malfunction, our skilled technicians are ready to promptly diagnose and repair your Chrysler, Dodge, Jeep, or Ram vehicle. With their extensive knowledge and expertise, they can identify the root cause of the issue and implement the necessary repairs with precision. Whether it's an engine issue, electrical problem, or suspension trouble, you can trust our technicians to get your vehicle back on the road in optimal condition. We prioritize using genuine OEM parts to ensure the highest quality and compatibility, providing you with long-lasting repairs and peace of mind.
Commercial Maintenance & Repair for Your Business
We understand that your business relies on the reliability of your fleet vehicles. That's why Hunter Dodge Chrysler Jeep Ram FIAT offers specialized commercial maintenance and repair services to keep your business running smoothly. Our service team has experience handling the unique demands of commercial vehicles and can provide tailored solutions to meet your specific needs. From regular maintenance to prompt repairs, we strive to minimize downtime and maximize productivity for your business.
OEM Parts
When it comes to servicing and repairing your Chrysler, Dodge, Jeep, or Ram vehicle, we believe in using only genuine OEM parts. Genuine OEM parts are the correct design for your vehicle, ensuring the perfect fit, optimal performance, and long-term reliability. By choosing genuine parts, you can have confidence in their quality and compatibility, knowing they meet the manufacturer's strict standards. Whether it's a routine maintenance task or a major repair, our commitment to using genuine OEM parts ensures that your vehicle receives the best care possible.
Schedule Service
Are you ready to experience our exceptional service firsthand? Schedule your service appointment at Hunter Dodge Chrysler Jeep Ram FIAT today! Our friendly and knowledgeable staff will assist you in finding a convenient time that fits your schedule. We understand the value of your time and aim to provide efficient service without compromising on quality. When you choose us for your service needs, you can trust our technicians to provide the highest level of care and attention to detail, ensuring your vehicle receives the service it deserves.